Specialty Replacement Lamps
Lamps ordered will be shipped the next day by USPS Priority Mail or UPS. Large orders may qualify for a discount and may not qualify for next day shipment. If you do not know what lamp you require or for lamps not listed below, email your request or call 336-882-2854. To order, please call 800-692-3051.

Photo & AV Lamps • Stage Studio/Theatre
Fluorescent Lamps • General Lighting • LED
Sealed Beams • Heat Lamps • Germicidal
Dental Lamps • Medical Lamps
Front Projection and TV Lamps
Novelty Lamps
Bargain Priced Lamps
Hard To Find Lamps
Discontinued Incandescent


Lamp Sockets • Batteries • Ballasts


TV and Front Projection Lamps


3D Perception • 3M • Acer • A&K • Akai • Apollo • ASK • Barco • BenQ • BlueSky • Boxlight
Canon • Christie • Cinego • Compaq • Dell • Delta • Digital Projection • Dream Vision • Dukane • Dwin • E-Sonic
Eiki • Eizo • Elmo • Envisiontec • Epson • Gateway • GE • GEHA • GEM • Hitachi • HP • IBM • InFocus • JVC • Knoll • Kodak • Kolin
Legend • Liesegang • LG Zenith • Loewe • Magnavox • Marantz • Metavision • Microtek • Mitsubishi • NEC • Nobo • Olevia
Optoma • Panasonic • Philips • Planar • Plus • Polariod • Projection Design • Proxima • RCA • Runco
Sagem Axium • Sahara • Samsung • Sanwa • Sanyo • Sega • Seleco • Sharp • Sim2 • Smart Board • Sony • Studio Experience
Synelec • Telex • Thomson • Toshiba • Vidikron • ViewSonic • Viore • Vivitek •Vizio • Vtron • Xerox • Yamaha • Zenith



Equipment Cross Reference Guide
Policy Page
Privacy Policy
Recommendations
Shipping Information
Frequently Asked Questions
Definitions of Common Lighting Terms
Lamp Handling Tips and Problem Solutions



Two standard measurements for the color characteristics of light
Color Rendering Index
Color Temperature
Formula for Incandescent Bulb Life

Lamp Bases
Recycling Spent Mercury-Containing Lamps
Ohms Law

6.6A Airfield Lamps • MR11 Lamps • G9 Base Lamps

Duro-Lite Lamps • Zampa Lamps



We are a commercial and residential resource for light bulbs from quality manufacturers including Philips Lighting, Osram, Eiko, Plusrite, Sylvania, Hikari, Higuchi, Kandolite and General Electric. We stock replacement lighting and lamps including incandescent bulbs, halogen light bulbs, PAR halogen and incandescent lamps, MR8 lamps, MR11 lamps, MR13 lamps, MR14 lamps, MR16 lamps, compact fluorescent bulbs, metal halide bulbs, high intensity discharge bulbs (H.I.D.), full spectrum light bulbs, ANSI code bulbs, projector bulbs, medical bulbs, dental bulbs, surgical bulbs, automotive bulbs, minitature lamps etc. Custom manufacturing is available.

Please visit our recommended source for projector parts and manuals.

For information on recycling your light bulb ("lamp") spent mercury-containing lamps go to: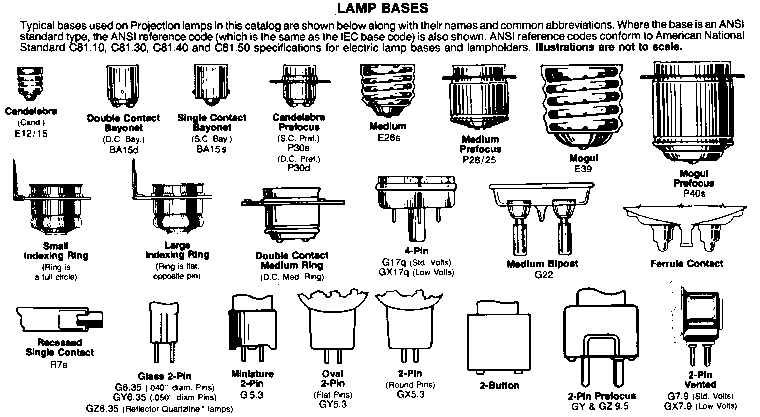 Facts of Light
A Light Year is a measure of distance, not of time.
Since light travels at a rate of about 186,000 miles per second, a light year is about 6 trillion miles.

You can screw an E27 screw base into an E26 socket.
You cannot screw an E26 screw base into an E27 socket.
You would think that the smaller would screw into the larger but it is an issue of thread count and length.
In some cases you can bend the center contact in the lamp socket out and use the E26 in the E27 socket in base down operation.
Please turn of the electricity to the socket before adjusting the tab or you might have an exciting experience.

Mazda: On December 21, 1909, General Electric first used the name Mazda on their lamps. The name was trademarked and assigned the number 77,779 by the United States Patent and Trademarke Office. Today, we associate the name with automobiles, but when it was first used by GE it was chosen to represent the best that the American Lighting industry had to offer at the time, and it was selected due to the fact that Persian mythology gave the name Ahura Mazda to the god of light. General Electric dropped the Mazda trademark in 1945, and ceased licensing the name as well.

Electronic Tubes
Discount Camera Accessories
Discount Camera Filters
Projector Belts
Odds and Ends
Photographic Tips
Discontinued Lamps No Longer In Stock
Replacementlightbulbs.com
800 Burton Avenue, Suite 107
High Point, NC 27262
336-882-BULB (2852)

Order Line: 800-692-3051
Technical Support Line: 336-882-2854
Fax Line: 336-882-2819

Hours: 9 AM to 6 PM EST Monday through Friday

Sales: Address changes, invoice copies, tracking and delivery confirmation numbers, order status, product availability, payment options, shipping quotes, returns, damage claims
336-882-2852
sales@replacementlightbulbs.com

Technical Support:
Help finding a product not listed, determining the correct lamp for your application, lamp handling and premature lamp failures
336-882-2854
support@replacementlightbulbs.com
International Orders: Large international orders that require special shipping arrangements and quotes
in@replacementlightbulbs.com

If you have compliments, complaints, suggestions, or help with areas not listed above please contact: