P-VIP 100-120/1.3 E23 5kV Lamp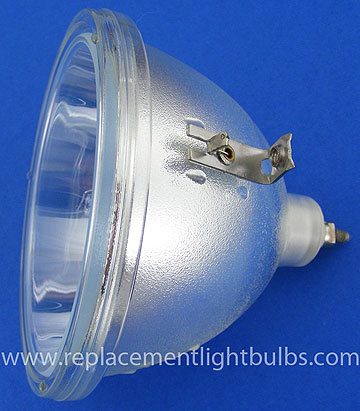 Osram $68.85 Each

For Longer Life Use P-VIP 150/1.0 E23

Lamps ordered will be shipped the next business day by UPS or USPS Priority Mail. Large orders may qualify for a discount and may not qualify for next day shipment. If you do not know what lamp you require or for lamps not listed, email your request or call 336-882-2854. To order, please use our secure shopping cart above or call 336-882-2852 or 800-692-3051. Click to go to our Home Page, View Cart and to find Shipping Information.


Click below to order using our secure shopping cart.


Wattage: 100-120W, 120W
Glass: Reflector E23 Elliptic, Elliptical, Elliptically
Arc Gap: 1.3mm
Ignition Voltage: 5kV
5200 Lumens at 120W observed in working distance through 6mm aperture
Category MD TV
Power range 100 – 120 W
Environmental Complies RoHS
Max Lamp Power: 120 Watts
Electrodes: Solid tungsten
Max Lamp Current: 2.0 Amps
Luminous Flux: 6000 lm at 100W - 7000 lm at 120W
Max Lamp Operating Voltage: 65 Volts
Luminous Efficacy: 58 lm/W
Colour Temperature: 7600°K
CRI: Ra 57
Bulb Finish: Hard Dichroic Cold Mirror
Chromaticity Co-ordinates: CCx : 0.298 CCy : 0.311
Bulb Type: PAR-23 Borosilicate with front glass
Average Rated Life: 8000 hours at 100W, 6000 hours at 120W
Reflector Size: Round 95mm


Alternate Part Numbers: VIP-120-E23, OSRAM P-VIP 100-120/1.3 E23, 69529, Philips 100W E23 UHP

For Longer Life Use P-VIP 150/1.0 E23

Warranty: The lamp manufacturers no longer warranty front and rear projector lamps. We, at our expense, warranty these lamps for thirty days from the date of purchase should they fail prematurely due to a manufacturing defect.

For MD TV applications.


Equipment using this lamp:

LG Zenith

RE-44SZ20RD

Loewe

55 Loewe Arctic




RD50

RD65

RD65a

Sagem Axium

HD501

HTD501

RL-1080A Retroprojecteur TV if your lamp code ends in E23. If the code ends in E23h you need this

lamp

.
Cross reference information is designed to help you find the correct lamp for your application. We do not verify the accuracy of this information. You are responsible for ordering the correct lamp and we make every attempt to help you in that process. We recommend that you confirm the information with the equipment manufacturer before ordering.
Replacement Light Bulbs
800 Burton Avenue, Suite 107
High Point, NC 27262
336-882-BULB (2852)

Order Line: 800-692-3051
Technical Support Line: 336-882-2854
Fax Line: 336-882-2819

Hours: 8 AM to 4 PM EST Monday through Friday

Sales: Address changes, invoice copies, tracking and delivery confirmation numbers, order status, product availability, payment options, shipping quotes, returns, damage claims
336-882-2852
sales@replacementlightbulbs.com

Technical Support:
Help finding a product not listed, determining the correct lamp for your application, lamp handling and premature lamp failures
336-882-2854
support@replacementlightbulbs.com
International Orders: Large international orders that require special shipping arrangements and quotes
in@replacementlightbulbs.com

If you have compliments, complaints, suggestions, or help with areas not listed above please contact:
Ron Miller
General Manager