QCJ-11 GZ9.5 GY9.5 2 Pin Prefocus Lamp Socket

Buhl $3.23 Each
Sockets ordered will be shipped the next business day by USPS Priority Mail or UPS. Large orders may qualify for a discount and may not qualify for next day shipment. If you do not know what lamp you require or for lamps not listed, email your request or call 336-882-2854. To order, please use our secure shopping cart above or call 336-882-2852 or 800-692-3051. Click to go to our Home Page, View Cart and to find Shipping Information.

Base Type: GY9.5, GZ9.5
Maximum Voltage: 300V
Maximum Amperage: 10A, 10 A
Maximum Wattage: 750W
Maximum Pin Temperature: 225°C
Body: Steatite
Contacts: Silver Plated, Beryllium Copper
Housing: Stainless Steel
For 100W or greater, ample convection or forced air flow is required to prevent socket damage.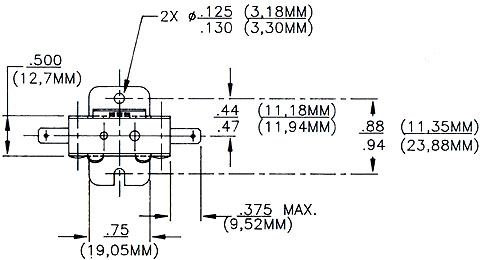 Alternate Part Numbers: OCJ-11, QCJ-11R

Lamp Socket for all GZ9.5 and GY9.5 based lamps including: 093926-047, 220T4Q/2PPF, BTA, BVE, DDJ/DZZ, DYR, DYS, DZE/FDS, DZJ, DZV, EGZ, EHA, EKB, EKL, EMG, EPD, EVV, EWR, EXL, EXM, EYL, FDT, FKW, FMR, FNA, FRE, FRG, FRK, FTK, I061053, M-01145, Q235T4/3-33V,

Replacementlightbulbs.com
800 Burton Avenue, Suite 107
High Point, NC 27262
336-882-BULB (2852)


Order Line: 800-692-3051
Technical Support Line: 336-882-2854
Fax Line: 336-882-2819


Hours: 8 AM to 4 PM EST Monday through Friday


Sales: Address changes, invoice copies, tracking and delivery confirmation numbers, order status, product availability, payment options, shipping quotes, returns, damage claims
336-882-2852
sales@replacementlightbulbs.com


Technical Support:

Help finding a product not listed, determining the correct lamp for your application, lamp handling and premature lamp failures
336-882-2854
support@replacementlightbulbs.com


International Orders: Large international orders that require special shipping arrangements and quotes
in@replacementlightbulbs.com


If you have compliments, complaints, suggestions, or help with areas not listed above please contact:

Ron Miller




General Manager



ron@replacementlightbulbs.com