Osram Sylvania 9011 12V 65W HIR1 Light Bulb Replacement Lamp

Wagner $19.35 Each - 4 Remaining In Stock
Sylvania $19.35 Each - 58 In Stock
Lamps ordered will generally be shipped the next business day by USPS Priority Mail or UPS, check here for Shipping Information. Large orders may qualify for a discount and may not qualify for next day shipment. If you do not know what lamp you require or for lamps not listed, email your request or call 336-882-2854. To order, please use our secure shopping cart or call 336-882-2852 or 800-692-3051. Click to go to our Home Page and View Cart.

Wattage: 65W, 65 Watt, 65 Watts
Voltage: 12V, 12.8V, 12 Volt, 12 Volts
Amperage: 5.42A
Filament: C-8
Glass: T-3.25, T3.25
Base: PX20d
Average Rated Life: 150 Hours at 14V
Maximum Overall Length: MOL 3.5"
Light Center Length: LCL 1.25"
MSCP 183
Lumens: 2350
Color Temperature: 3450°K
HIR Automotive Headlamp High HIR1, Infrared
DOT and ECE Compliant
Replaces Discontinued Toshiba Lamp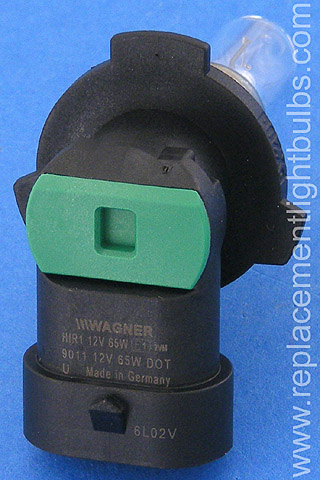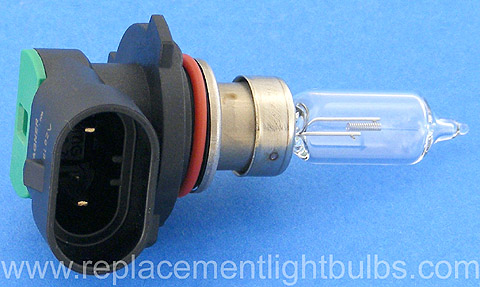 Alternate Part Numbers: GE 14776, E1, DOT, 24T, 00711, headlighting, C1, 9011C1, 9011E1, 9011U, 9011-U, 9011X HIR, GE 47327, Made in Germany, Wagner, Golight 39000 GL-39000
Substituting the 9011 for the 9005 HB3 lamp: Work lamps, dive lamps, and other lamps originally designed around the automotive 9005 HB3 headlamp bulbs can be upgraded by retrofitting the 9011. The 9011 HIR bulb is much more efficient by design, so it produces more light. The 9011 has the same voltage and wattage rating as the 9005 so there's no additional current draw or heat production. One of the three plastic base tabs of an HIR bulb must be slightly trimmed with a small saw, a file, or a Dremel tool to fit in place of a non-HIR bulb. Occasionally you may encounter a lamp into which the HIR bulb will not quite fit, either because of a casting ridge on the inside of the round hole through which the bulb shank protrudes into the lamp, or because the bulb base tabs are slightly too thick to rotate into position in the lamp's bulb seat. In the first case, the casting ridge can easily be removed by wrapping a strip of sandpaper around your finger, abrasive side out, wetting it so as to catch and hold sanding dust, and going round and round the bulb shank hole with your abrasive-wrapped finger until the ridge has been smoothed away. Use a damp paper towel to wipe the inside of the shank hole to remove the sanding dust, and then the bulb will fit right in. In the second case, usually bevelling the leading rear edge of each bulb base tab with a file, dremel tool or sandpaper will allow it to twist securely into the bulb seat. Some lamps have bulb seats that can be adjusted for bulb base tabs of various thickness, because the seat is held to the rear of the lamp with screws. Simply loosen the screws slightly until the thicker base tab is accommodated.
The 9011 is the High Beam lamp for the following vehicles.


| | | | | |
| --- | --- | --- | --- | --- |
| Year | Make | Model | Trim | Engine |
| 1996 | Dodge | Viper | GTS Coupe 2-Door | 8.0L 7990CC 488Cu. In. V10 GAS OHV Naturally Aspirated |
| 1997 | Dodge | Viper | GTS Coupe 2-Door | 8.0L 7990CC 488Cu. In. V10 GAS OHV Naturally Aspirated |
| 1998 | Dodge | Viper | GTS Coupe 2-Door | 8.0L 7990CC 488Cu. In. V10 GAS OHV Naturally Aspirated |
| 1999 | Dodge | Viper | GTS Coupe 2-Door | 8.0L 7990CC 488Cu. In. V10 GAS OHV Naturally Aspirated |
| 2000 | BMW | Z8 | Base Convertible 2-Door | 5.0L 4941CC V8 GAS DOHC Naturally Aspirated |
| 2000 | Dodge | Viper | GTS Coupe 2-Door | 8.0L 7990CC 488Cu. In. V10 GAS OHV Naturally Aspirated |
| 2000 | Infiniti | I30 | Base Sedan 4-Door | 3.0L 2988CC 182Cu. In. V6 GAS DOHC Naturally Aspirated |
| 2000 | Infiniti | I30 | T Sedan 4-Door | 3.0L 2988CC 182Cu. In. V6 GAS DOHC Naturally Aspirated |
| 2001 | BMW | Z8 | Base Convertible 2-Door | 5.0L 4941CC V8 GAS DOHC Naturally Aspirated |
| 2001 | Dodge | Viper | GTS Coupe 2-Door | 8.0L 7990CC 488Cu. In. V10 GAS OHV Naturally Aspirated |
| 2001 | Infiniti | I30 | Base Sedan 4-Door | 3.0L 2988CC 182Cu. In. V6 GAS DOHC Naturally Aspirated |
| 2001 | Infiniti | I30 | T Sedan 4-Door | 3.0L 2988CC 182Cu. In. V6 GAS DOHC Naturally Aspirated |
| 2002 | BMW | Z8 | Base Convertible 2-Door | 5.0L 4941CC V8 GAS DOHC Naturally Aspirated |
| 2002 | Chevrolet | Avalanche 1500 | Base Crew Cab Pickup 4-Door | All |
| 2002 | Chevrolet | Avalanche 1500 | Z71 Crew Cab Pickup 4-Door | All |
| 2002 | Chevrolet | Avalanche 2500 | All | All |
| 2002 | Dodge | Viper | GTS Coupe 2-Door | 8.0L 7990CC 488Cu. In. V10 GAS OHV Naturally Aspirated |
| 2003 | BMW | Z8 | Base Convertible 2-Door | 5.0L 4941CC V8 GAS DOHC Naturally Aspirated |
| 2003 | Chevrolet | Avalanche 1500 | Base Crew Cab Pickup 4-Door | All |
| 2003 | Chevrolet | Avalanche 1500 | Z71 Crew Cab Pickup 4-Door | All |
| 2003 | Chevrolet | Avalanche 2500 | All | All |
| 2003 | Kia | Optima | LX Sedan 4-Door | 2.4L 2351CC l4 GAS DOHC Naturally Aspirated |
| 2004 | Chevrolet | Avalanche 1500 | Base Crew Cab Pickup 4-Door | All |
| 2004 | Chevrolet | Avalanche 1500 | Z71 Crew Cab Pickup 4-Door | All |
| 2004 | Chevrolet | Avalanche 2500 | All | All |
| 2004 | Kia | Optima | LX Sedan 4-Door | 2.4L 2351CC l4 GAS DOHC Naturally Aspirated |
| 2005 | Chevrolet | Avalanche 1500 | Base Crew Cab Pickup 4-Door | All |
| 2005 | Chevrolet | Avalanche 1500 | Z71 Crew Cab Pickup 4-Door | All |
| 2005 | Chevrolet | Avalanche 2500 | All | All |
| 2005 | Kia | Optima | LX Sedan 4-Door | 2.4L 2351CC l4 GAS DOHC Naturally Aspirated |
| 2006 | Kia | Optima | LX Sedan 4-Door | 2.4L 2351CC l4 GAS DOHC Naturally Aspirated |
| 2007 | Toyota | Solara | SE Convertible 2-Door | All |
| 2007 | Toyota | Solara | SE Coupe 2-Door | All |
| 2007 | Toyota | Solara | SLE Convertible 2-Door | All |
| 2007 | Toyota | Solara | SLE Coupe 2-Door | All |
| 2007 | Toyota | Solara | Sport Convertible 2-Door | All |
| 2007 | Toyota | Solara | Sport Coupe 2-Door | All |
| 2008 | Toyota | Avalon | Limited Sedan 4-Door | 3.5L 3456CC V6 GAS DOHC Naturally Aspirated |
| 2008 | Toyota | Avalon | XL Sedan 4-Door | 3.5L 3456CC V6 GAS DOHC Naturally Aspirated |
| 2008 | Toyota | Avalon | XLS Sedan 4-Door | 3.5L 3456CC V6 GAS DOHC Naturally Aspirated |
| 2008 | Toyota | Solara | SE Convertible 2-Door | All |
| 2008 | Toyota | Solara | SE Coupe 2-Door | All |
| 2008 | Toyota | Solara | SLE Convertible 2-Door | All |
| 2008 | Toyota | Solara | SLE Coupe 2-Door | All |
| 2008 | Toyota | Solara | Sport Convertible 2-Door | All |
| 2008 | Toyota | Solara | Sport Coupe 2-Door | All |
| 2009 | Toyota | Avalon | Limited Sedan 4-Door | 3.5L 3456CC V6 GAS DOHC Naturally Aspirated |
| 2009 | Toyota | Avalon | XL Sedan 4-Door | 3.5L 3456CC V6 GAS DOHC Naturally Aspirated |
| 2009 | Toyota | Avalon | XLS Sedan 4-Door | 3.5L 3456CC V6 GAS DOHC Naturally Aspirated |
| 2010 | Toyota | Avalon | Limited Sedan 4-Door | 3.5L 3456CC V6 GAS DOHC Naturally Aspirated |
| 2010 | Toyota | Avalon | XL Sedan 4-Door | 3.5L 3456CC V6 GAS DOHC Naturally Aspirated |
| 2010 | Toyota | Avalon | XLS Sedan 4-Door | 3.5L 3456CC V6 GAS DOHC Naturally Aspirated |
Cross reference information is designed to help you find the correct lamp for your application. We do not verify the accuracy of this information. You are responsible for ordering the correct lamp and we make every attempt to help you in that process. We recommend that you confirm the information with the equipment manufacturer before ordering.

Replacementlightbulbs.com
800 Burton Avenue, Suite 107
High Point, NC 27262
336-882-BULB (2852)


Order Line: 800-692-3051
Technical Support Line: 336-882-2854
Fax Line: 336-882-2819


Hours: 8 AM to 4 PM EST Monday through Friday


Sales: Address changes, invoice copies, tracking and delivery confirmation numbers, order status, product availability, payment options, shipping quotes, returns, damage claims
336-882-2852
sales@replacementlightbulbs.com


Technical Support:

Help finding a product not listed, determining the correct lamp for your application, lamp handling and premature lamp failures
336-882-2854
support@replacementlightbulbs.com


International Orders: Large international orders that require special shipping arrangements and quotes
in@replacementlightbulbs.com


If you have compliments, complaints, suggestions, or help with areas not listed above please contact:

Ron Miller




General Manager



ron@replacementlightbulbs.com