FLS/E 9W 6500°K Light Bulb Fluorescent Lamp

Kandolite 6" $3.20 Each - 6,587 Remaining In Stock
Kandolite 5.5" $3.80 Each - 1,215 Remaining In Stock
Most applications use the lamp that has a maximum overall length including the pins of 6". Some applications require the shorter 5.5" long lamp.
Lamps ordered will generally be shipped the next business day by USPS Priority Mail or UPS, check here for Shipping Information. Large orders may qualify for a discount and may not qualify for next day shipment. If you do not know what lamp you require or for lamps not listed, email your request or call 336-882-2854. To order, please use our secure shopping cart or call 336-882-2852 or 800-692-3051. Click to go to our Home Page and View Cart.

Wattage: 9W, 9 Watt Watts
9 watts of power used for 40 watts of light output.
Glass: T-4, T4, Double Tube, Duo-Tube
Base: 2G7 4-Pin, Four pins in a row
Initial Lumens: 6" Lamp 600 Lumen Light Output, 5.5" Lamp 550 Lumen Light Output
Maximum Overall Length: MOL 6"/152.4mm
Average Rated Life: 8,000 hours
Color Temperature: 6500°K, 6500K, Equals 6400K
CRI Range 80-89 1,B

2G7 Base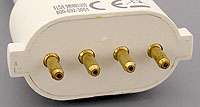 Replaces eight 1,000 hour regular 40W light bulbs.
Eight times the life and 20% of the power consumption of ordinary light bulbs
For External Starters, Conventional and Electronic Control Gear ECG and Dimmer Systems
Alternate Part Numbers: FL-S/E, 4pin, PL-S Ecotone Energy Saving Bulb, 865, PL-S 9W/865/4P, PL-S9W/865/4P, 865 = 6500°K, HF/ES, 9911, 0404, HC/ES, 9W/6500K, HC-ESU/D, FSL YDW9-π-RR 9W/865, 14IV
We had a customer with a Rayovac lantern have a fit issue similar to a problem we have seen with 7 watt versions of this lamp. If you have a Rayovac lantern please go here before ordering.
Note: This lamp contains Mercury. Manage in accord with disposal laws. See www.lamprecycle.org.
Coleman
2000000873 or 5357-109C for the 5357-700, 5357H705, 2000000867, 5358-H705, 5358J700, 5357-750, 5375-750, 5357-700T, 5357A700 U-Tube Lantern, 8D and Rechargeable
Coleman Model 5327A750

Beaver Canoe Camping Lantern

Leica Microscope-Gemological Scope, Overhead Over Head Lighting

Cross reference information is designed to help you find the correct lamp for your application. We do not verify the accuracy of this information. You are responsible for ordering the correct lamp and we make every attempt to help you in that process. We recommend that you confirm the information with the equipment manufacturer before ordering.

Replacementlightbulbs.com
800 Burton Avenue, Suite 107
High Point, NC 27262
336-882-BULB (2852)


Order Line: 800-692-3051
Technical Support Line: 336-882-2854
Fax Line: 336-882-2819


Hours: 8 AM to 4 PM EST Monday through Friday


Sales: Address changes, invoice copies, tracking and delivery confirmation numbers, order status, product availability, payment options, shipping quotes, returns, damage claims
336-882-2852
sales@replacementlightbulbs.com


Technical Support:

Help finding a product not listed, determining the correct lamp for your application, lamp handling and premature lamp failures
336-882-2854
support@replacementlightbulbs.com


International Orders: Large international orders that require special shipping arrangements and quotes
in@replacementlightbulbs.com


If you have compliments, complaints, suggestions, or help with areas not listed above please contact:

Ron Miller




General Manager



ron@replacementlightbulbs.com