QCX-34-112/124 G58-E 250V 12A 750W GX5.3, GU5.3, G5.3 Bi-Pin Lamp Socket


Golo G58E-15.5T, 15.5 Inch Leads, $1.95 Each
Buhl QCX-34-112, 12 Inch Leads, $1.98 Each
Buhl QCX-34-124, 24 Inch Leads, $2.45 Each
Sockets ordered will be shipped the next business day by USPS Priority Mail or UPS. Large orders may qualify for a discount and may not qualify for next day shipment. If you do not know what lamp you require or for lamps not listed, email your request or call 336-882-2854. To order, please use our secure shopping cart above or call 336-882-2852 or 800-692-3051. Click to go to our Home Page, View Cart and to find Shipping Information.

Base Type: GU5.3, G5.3 and GX5.3 Bi-Pin, GU5,3, GX5,3, G5,3
Maximum Voltage: Buhl 300V, Golo 250V
Maximum Amperage: Buhl 12A, 12 A
Maximum Wattage: Buhl 750W, Golo 1000W
Height: .31"/7.88mm
Width: .75"/19.1mm
Length: 1.067"/27.1mm
Wire Leads: .060" diameter 12.5" long
Single contact with back up springs.
Lamp Socket for GU5.3, GX5.3 and G5.3 base lamps.
The QCX-5S-112 is discontinued and is replaced by the QCX-34-112
Alternate Part Numbers: QCX, B.E., SA LR RL, QCX-5S-112, QCX-12, B9155, QCX-30-112, G58E, G58-E, 658-E, K. S., LS-QCX-34, LS86/110, Golo 113, Buhl Electric Brand, Leecraft OLB GLB 300V-750W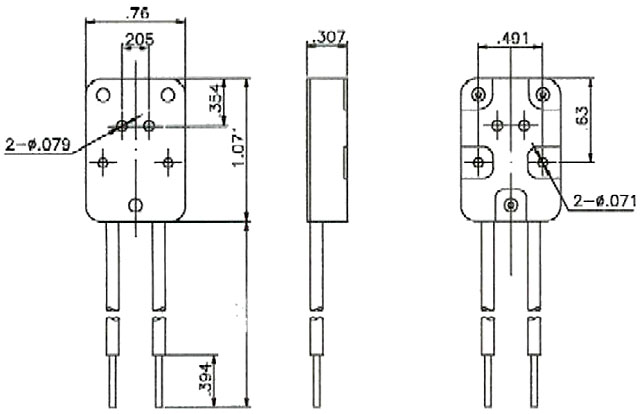 Socket Fits: 13117, 13288, 13865, 37MR16/IR/NFL25/C-12V, 58634, BAB, DDF, DDK, DDL, DDM, DED, DVY, DYH, DYJ, DYM, DZA, DZL, EJA, EJL, EJM, EJV, EJY, EKE, EKE/X, EKN, EKP/ENA, EKX, EKZ, ELB, ELC, ELH, EMB, ENG, ENH, ENL, ENW/ENC, ENX, ENX/5, ENZ, EPN, EPT, EPV, EPW, EPX, EPZ/DJT, ERV, ESC, ESD, ESJ, ESX, ETJ, EVW, EWF, EWG, EXK, EXN, EXP, EXR, EXS, EXT, EXT-P-NDL, EXV, EXW, EXX, EXY, EXZ, EYA, EYB, EYC, EYF, EYH/FKT, EYJ, EYP, EYR, EZD, EZF/EZJ, EZK, EZW, EZX, EZY, EZZ, FBG/FBD, FHS, FHX, FJX, FLE, FML, FMT, FMV, FMW, FNV, FPA, FPB, FPC, FRA, FSH, FXL, GCA, HI-110, HI-111, JDRC120V35W/F-GX5.3, JDRC120V50W-GX5.3, JDRC120V50W/F-GX5.3, JCRC120V50W/ALU/F-GX5.3, MR-8311, MR-8315, MR-8319, Q15MRC16/FL/12V
Nova Instruments
Eco Light 150

Replacement Light Bulbs
800 Burton Avenue, Suite 107
High Point, NC 27262
336-882-BULB (2852)


Order Line: 800-692-3051
Technical Support Line: 336-882-2854
Fax Line: 336-882-2819


Hours: 8 AM to 4 PM EST Monday through Friday


Sales: Address changes, invoice copies, tracking and delivery confirmation numbers, order status, product availability, payment options, shipping quotes, returns, damage claims
336-882-2852
sales@replacementlightbulbs.com


Technical Support: Help finding a product not listed, determining the correct lamp for your application, lamp handling and premature lamp failures
336-882-2854
support@replacementlightbulbs.com

International Orders: Large international orders that require special shipping arrangements and quotes
in@replacementlightbulbs.com

If you have compliments, complaints, suggestions, or help with areas not listed above please contact:

Ron Miller
General Manager

ron@replacementlightbulbs.com