F8T5/BL 8W Blacklight UV-A Light Bulb Fluorescent Lamp

Import $2.00 Each - 61 In Stock
Lamps ordered will generally be shipped the next business day by USPS Priority Mail or UPS, check here for Shipping Information. Large orders may qualify for a discount and may not qualify for next day shipment. If you do not know what lamp you require or for lamps not listed, email your request or call 336-882-2854. To order, please use our secure shopping cart or call 336-882-2852 or 800-692-3051. Click to go to our Home Page and View Cart.

Wattage: Rated 8W, 8 Watt Watts
Glass: T-5, T5 Clear, T16 European
Base: G5 BiPin
UV Emission: 350nm to 365nm, UV-A, UVA
Maximum Overall Length: 12", 12 Inches, 304mm, Actual about 11-7/8"
Preheat
Average Rated Life: 7,500 hours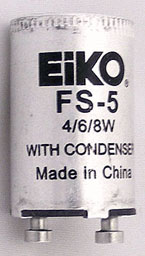 If you are experiencing slow start times or the new lamp does not work you may need a new starter.
You can purchase the starter for this lamp at FS-5 Fluorescent Starter with Condenser.
Alternate Part Numbers: Eiko 15515, Blacklight 350nm Preheat, RB8T5/BL, F8T5/UV, Osram Sylvania F8T5/350BL, Ushio 3000115, F8T5BL, PL&T, Satco S2906, Green Energy 30373, Bulbrite 501608, Damar 02717B, Feit, LSE F8T5/BL/350, BL350, Efos 3049B, Spectronics BLE8T365, BLE-8T365, 18693, 3000115-U, Thermo Fisher Scientific 14-395-824, 017389, Philips TL8W/10, BL350/368, 26042027, 8Watt, Hitachi HITA007, Blacklight-368, Wemlite 30763, F8T5/BL/368, LS08WX-W, Abco Angelo 07511, EYE FL8BL, EX16, Exocuter 16, Halco Prolume Prism, Sylvania 20833, Wiko, Quantum 368, UVP 34-0006-01, 10093
Note: This lamp contains Mercury. Manage in accord with disposal laws. See www.lamprecycle.org.
Typical Use: Photo Documentation System, Bug Light, Bug Zapper, Flykiller, Fly Killer, Nail Curing, Glue Curing, Top Coat Curing, Gel Curing, Bug Eater
IBD Jet
Pharmacia
80-6249-48, 80624948
UVP
Benchtop 3UV Transilluminator LMS-20 95-0417-01 or 95-0417-02, LMS-26 95-0414-01 or 95-0414-02
2UV Benchtop Transillumintators LM-20 95-0449-01 or 95-0449-02, LM-26 95-0459-01 or 95-0459-02
White.UV Transilluminator TLW-20 95-0415-01 or 95-0415-02, LMW-20 95-0418-01 or 95-0418-02
VWR
White/UV Transilluminator Dual UV Transilluminators 89131-464, 89131-466, 89131-468, 89131-470, 89131-480, 89161-482
Long Wave UV 365nm F8T5/BL 21474-921

Cross reference information is designed to help you find the correct lamp for your application. We do not verify the accuracy of this information. You are responsible for ordering the correct lamp and we make every attempt to help you in that process. We recommend that you confirm the information with the equipment manufacturer before ordering.

Replacementlightbulbs.com
800 Burton Avenue, Suite 107
High Point, NC 27262
336-882-BULB (2852)


Order Line: 800-692-3051
Technical Support Line: 336-882-2854
Fax Line: 336-882-2819


Hours: 8 AM to 4 PM EST Monday through Friday


Sales: Address changes, invoice copies, tracking and delivery confirmation numbers, order status, product availability, payment options, shipping quotes, returns, damage claims
336-882-2852
sales@replacementlightbulbs.com


Technical Support:

Help finding a product not listed, determining the correct lamp for your application, lamp handling and premature lamp failures
336-882-2854
support@replacementlightbulbs.com


International Orders: Large international orders that require special shipping arrangements and quotes
in@replacementlightbulbs.com


If you have compliments, complaints, suggestions, or help with areas not listed above please contact:

Ron Miller




General Manager



ron@replacementlightbulbs.com