FS-5 4W 6W 8W Fluorescent Starter with Condenser

94,147 Remaining In Stock
$1.00 Each
Lot of 3 $2.25
Case of 500 $140.00
Starters ordered will generally be shipped the next business day by USPS Priority Mail or UPS, check here for Shipping Information. Large orders may qualify for a discount and may not qualify for next day shipment. If you do not know what lamp you require or for lamps not listed, email your request or call 336-882-2854. To order, please use our secure shopping cart or call 336-882-2852 or 800-692-3051. Click to go to our Home Page, View Cart and to find Shipping Information.



FS-5 Aluminum Fluorescent Lamp Starter with Condenser
Lamp starter for G4T5, G6T5, G8T5, F4T5/W, F4T5/WW, F4T5/CW, F4T5/D, F4T5/BL, F4T5/BLB, F4T5/350BL, F4T5/TTL, TL4W/33, TL 4W/33, TL4W33, F4T5/GL, F6T5/W, F6T5/WW, F6T5/CW, F6T5/D, F6T5/BL, F6T5/BLB, F6T5/350BL, F6T5/TTL, TL6W/33, TL 6W/33, TL6W33, F6T5/GL, F8T5/W, F8T5/WW, F8T5/CW, F8T5/D, F8T5/BL, F8T5/BLB, F8T5/350BL, F8T5/TTL, TL8W/33, TL 8W/33, TL8W33, F8T5/GL, F4T5W, F4T5WW, F4T5CW, F4T5D, F4T5BL, F4T5BLB, F4T5350BL, F4T5TTL, TL4W/33, TL 4W/33, TL4W33, F4T5GL, F6T5W, F6T5WW, F6T5CW, F6T5D, F6T5BL, F6T5BLB, F6T5350BL, F6T5TTL, F6T5GL, F8T5W, F8T5WW, F8T5CW, F8T5D, F8T5BL, F8T5BLB, F8T5350BL, F8T5TTL, F8T5GL
Aluminum Bi-Pin Base and Shell
Nominal Line Voltaqe: 115V ±10%
Diaelectric Strength: 1500V/60sec without breakdown
Endurance: on/off over 6000 cycles
Pulse Voltage: Over 700V
Replaces S-2 and H-5X
FS-5 Aluminum Fluorescent Starter For 4, 6 and 8 Watt (F4, F6, F8) Preheat Fluorescent Lamps. UL & ULC Approved.
Alternate Part Numbers: FS5, 4/6/8 Watt, 4.6.8W, SA, IR9582, 45812, UPC 046135458125, CSA, 45813, UPC 046135458132, 4-329, Hubbell, 291902, Leviton 13894, S2, S-2, 203000, Neostart, Neo Start, 78358575005, FL4W, FL6W, FL8W, Havells USA 18344, 974C, LR 6582, Neostart
Some equipment using the 4W, 6W and 8W lamps have been found with the HUL FS-1P 110v-120v FL 10-20W FCL20-30W with condenser. Usually you can use this FS-5 in these applications.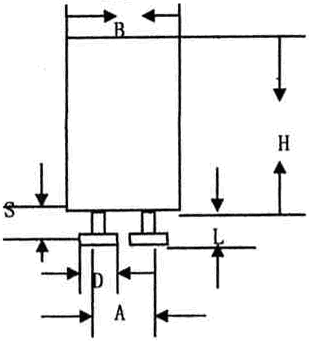 A=15.7mm
B=21.5mm
D=4.85mm
H=33.5mm
L=4.68mm
S=2.68mm

Replacementlightbulbs.com
800 Burton Avenue, Suite 107
High Point, NC 27262
336-882-BULB (2852)


Order Line: 800-692-3051
Technical Support Line: 336-882-2854
Fax Line: 336-882-2819


Hours: 8 AM to 4 PM EST Monday through Friday


Sales: Address changes, invoice copies, tracking and delivery confirmation numbers, order status, product availability, payment options, shipping quotes, returns, damage claims
336-882-2852
sales@replacementlightbulbs.com


Technical Support:

Help finding a product not listed, determining the correct lamp for your application, lamp handling and premature lamp failures
336-882-2854
support@replacementlightbulbs.com


International Orders: Large international orders that require special shipping arrangements and quotes
in@replacementlightbulbs.com


If you have compliments, complaints, suggestions, or help with areas not listed above please contact:

Ron Miller




General Manager



ron@replacementlightbulbs.com